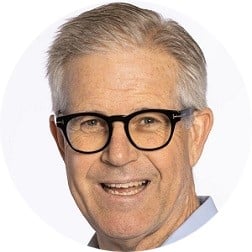 Greg Heiland
Founder
Originally from Chicago, Greg has been a Phoenician since 1965. After graduating from Santa Clara University in 1982, he started his career in contamination control in sales, and management for Baxter Scientific Products (now Avantor / VWR). In 1988, Greg and his wife, Mary, founded Sierra Scientific, the first Arizona based cleanroom products distributor. They acquired a Texas-based supplier, Class 10, and started Valutek, a controlled environment consumables manufacturer in 2000. Valutek Asia Sdn BHd was established in 2004 to support logistics, quality, and supply chain functions.

Based on his decades-long commitment to the controlled environment industry, Greg was the 2018 recipient of the IEST Robert L Mielke award. He is currently IEST board Fiscal VP and is active in the development and revisions on the IEST Recommended Practices for Apparel, Wipers, Swabs, Cleaning & Gloves. Greg is passionate about sharing his insight and experiences with clients and is committed to ensuring that his industry "thought leadership" is shared publicly.

Greg enjoys traveling, reading, the outdoors, and spending time with his family.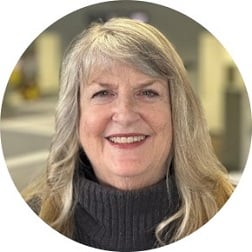 Mary Heiland
Co-Founder
A California native, Mary graduated from the University of Southern California with a Bachelor of Science degree in Occupational Therapy. She began her career in neuro rehab at St. Jude Hospital in Fullerton, CA. She then worked as a pediatric OT for California Children Services in Orange County, CA, and Howard County Schools in Maryland. In 1988, Mary founded Sierra Scientific with her husband, Greg, and subsequently Valutek in 2000.

As our internal and external "goodwill ambassador", Mary's role as culture advocate, team builder, talent recruiter, and celebrator is the heart of Valutek. Whether planning monthly themed "team appreciation" luncheons or celebrating milestones, Mary's legacy is her genuine care for the well-being of the team and the business.

In her leisure time Mary enjoys cooking, crafting, volunteering, travel and keeping connected with four grown children and their families.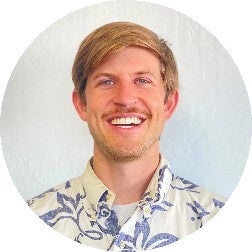 John Heiland
President
A native Arizonan, John graduated from Loyola Marymount University in 2015 with a degree in business. Upon graduation, John worked as a teacher in the Alumni Service Corp at his alma mater Brophy Prep and then worked at U-Haul's corporate headquarters on their public relations team.

John officially joined the Valutek staff at the beginning of 2019 but has unofficially worked for the family business since he could walk, talk, and move boxes in the warehouse. He oversees sales, marketing, and operations. In his current role, John is most satisfied when Valutek customers receive the right product, on time, and are supported by a team that is committed to the customer's long-term success. On the weekends, John, and his wife Sam (with dogs Panda and Nacho), spend their free time boating, camping, or road-tripping somewhere new. John spends his free time tinkering with home improvement projects and maintaining his collection of on-road, off-road, and water vehicles

Reach John directly at jheiland@valutek.com.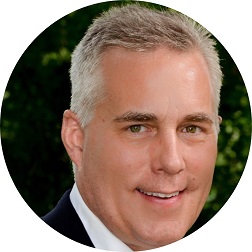 Neal Woods
National Sales Manager
Neal graduated from Penn State University and started his career in controlled environment manufacturing and contamination control over 25 years ago. As a recognized contamination control thought leader, he and his family relocated to Chicago in 2006. His hands-on experience includes doing audits and assessments for industry-leading organizations in life science and advanced materials. Neal recognizes that each critical environment is different, and he commits the resources to do on-site discovery to ensure that the Valutek product recommendations are the most appropriate for each application.

Once the Valutek product solutions are tested, qualified, and approved, Neal is the customer ambassador to ensure the entire Valutek team is aligned with specific client expectations. This includes dedicated inventory allocations, certificates of compliance reporting, updating usage forecasts as demand shifts, and conducting scheduled on-site meetings to review Valutek's' performance. In his free time, Neal enjoys traveling, spending time outdoors, and being with his wife Michele, family, and friends.

Reach Neal directly at nwoods@valutek.com or (630) 669-3003.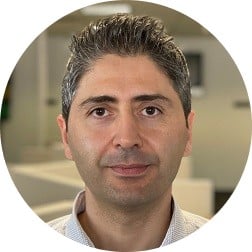 Yunus Akcali, Ph.D.
Marketing Manager
Yunus joined the Valutek Team in 2021 and coordinates all Marketing resources. This involves managing multiple platforms to ensure that our customers have hassle-free online access to product orders, specifications, comparisons, and the full technical library.

Yunus analyzes customer data by segments to ensure that the Valutek team is providing the most appropriate marketing collateral based on a client's specific application. He oversees the technical staff that develops blogs, case studies, and other relevant digital content to help customers have the best possible outcome using Valutek products.

Originally from Turkey, Yunus has a master's degree from Selcuk University in Public Administration, a Doctorate from the University of Porto in Contemporary History, and most recently a master of Professional Studies, Data and Business Analytics from Penn State University. Yunus' enthusiasm for travel and history led him to travel to different parts of the world and explore "Old World" ancient civilizations and cultures.

In his spare time, Yunus enjoys outdoor activities and spending time with family and friends.

Reach Yunus directly at yakcali@valutek.com.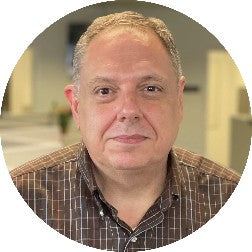 Nicholas Kadlec
Senior Controller | Director of Finance
The youngest of 9 children, Nick received an accounting degree from Keller Graduate School while working full-time. A native Chicagoan, Nick and his family relocated to Arizona in 1998. During his 22-year career with Atkore International, Nick voluntarily lead ERP implementations and lean manufacturing initiatives, in addition to his leadership role on the finance team.

At Valutek, Nick embraces challenging opportunities including (but not limited to) continuous change actions that reduce costs, enhance quality, and increase operating margins.

Nick is a servant leader, and his direct reports know that he is always interested in their individual success. As the finance leader, Nick interprets financial data to ensure the business model is financially viable, and that business investments generate acceptable returns. As Nick is "hands-on" repairing his motorcycle collection, or completing home improvement projects, no task is beneath him at Valutek. On the weekends, Nick takes great pleasure in spending time with his family.

Reach Nicholas directly at nkadlec@valutek.com or 602.761.2310.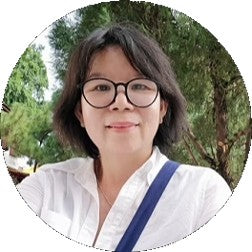 Sharon Looi
Staff Accountant | Asia Office Manager
Based in Malaysia, Sharon has been invaluable to the Valutek team for over a decade. She handles the majority of financial matters in Asia, especially accounts payable and receivable. Sharon specializes in sending friendly reminders to clients and always ensures prompt payments. Outside of the office, her favorite pastime is to go sightseeing with family members.

Reach Sharon directly at slooi@valutek.com.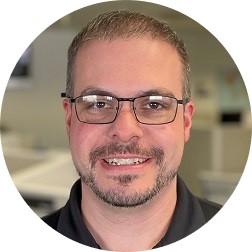 Daniel Preston
Staff Accountant
Originally from Seattle, Daniel earned an Associate degree from Bellevue College. He then re-located to Arizona in 2017 and earned a Bachelor of Science degree in accounting at Grand Canyon University while working full-time. At Valutek, in addition to executing daily accounting transactions, Daniel performs month-end closing and manages all financial reporting with precision and attention to detail. He is a strong team player who is willing and able to assist other departments based on business requirements. Daniel ensures that Valutek's financial data inputs are audited and that the quality of our financial data is accurate and updated in real-time.

On the weekend, Daniel enjoys taking his dog Kevin on walks at the park and playing a round of golf. He is also active in both a 2-person and 4-person sand volleyball league.

Reach Daniel directly at dpreston@valutek.com.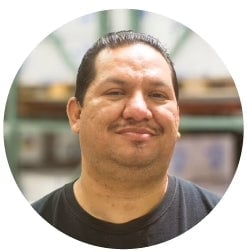 Jose Hernandez
Warehouse Coordinator
Originally from Colorado, Jose has been the warehouse coordinator at Valutek for years. A seasoned and dedicated employee, Jose is the core of order fulfillment at Valutek as he does inventory receiving, order picking, and stock rotation. He also monitors all the raw material components required for manufacturing. Jose and his family reside in the East Valley of Arizona.

Reach Jose directly at jhernandez@valutek.com.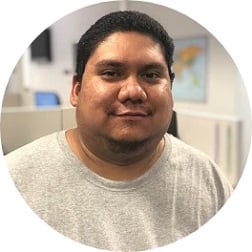 Michael Readeagle
Warehouse Technician
Michael began in the Valutek warehouse in 2020 and proved to be a hard worker and willing to tackle any project. He specializes in cleanroom production and inventory management.
Reach Michael directly at mredeagle@valutek.com.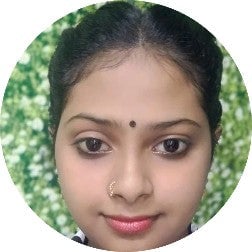 Renugaa Krishnan
Supply Chain Assistant
Renugaa joined Valutek with experience in computer systems administration. Originally from Penang, she works as a Supply Chain Assistant to maintain inventory levels, fulfill orders, and communicate with the suppliers. She loves listening to music during her spare time.

Reach Renugaa directly at rkrishnan@valutek.com.
Cheryll Cavada
Customer Support Representative
Cheryll was born in the Philippines, came to the U.S. at the age of 4 years old, and was raised in Chicago, IL. She has a bachelor's degree from Loyola University of Chicago in Communications. In 2019, Cheryll moved to AZ and lives in Downtown Phoenix with her fiancé, David. Cheryll has 15 years of experience in the manufacturing and distribution industries. She and her fiancé own an LLC e-commerce start-up business.

Cheryll loves traveling the world to see and learn other cultures. Her most recent travels were to Europe, visiting Portugal and Italy for 3 months. She enjoys scenic road trips, Zumba dancing, checking out new restaurants, watching basketball (especially the Golden State Warriors), and seeing a good action movie. When she can, Cheryll visits Chicago to spend quality time with family.

Reach Cheryll directly at orderdesk@valutek.com.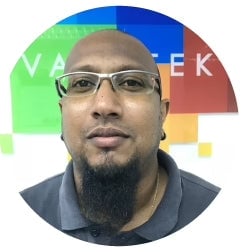 Vijendraan Venkitasalam
Quality Manager
Based in the Malaysia office, VJ is a high-tech manufacturing consumable expert. He's been with Valutek for more than a decade and has held roles of increasing importance throughout the years. VJ has an extensive education in electric and electronic engineering and enjoys traveling and playing sports in his free time.

Reach VJ directly at vijen@valutek.com.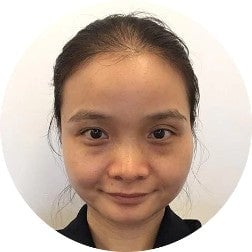 Sunny Wu
Quality Assurance Engineer
Sunny plays a crucial role in the Asia market as she leads on-site inspections for all apparel products manufactured in China. She excels at both improving product quality and reducing quality issues while also maintaining superior communication with multiple suppliers. Sunny enjoys playing badminton and rope in her leisure time.

Reach Sunny directly at swu@valutek.com.